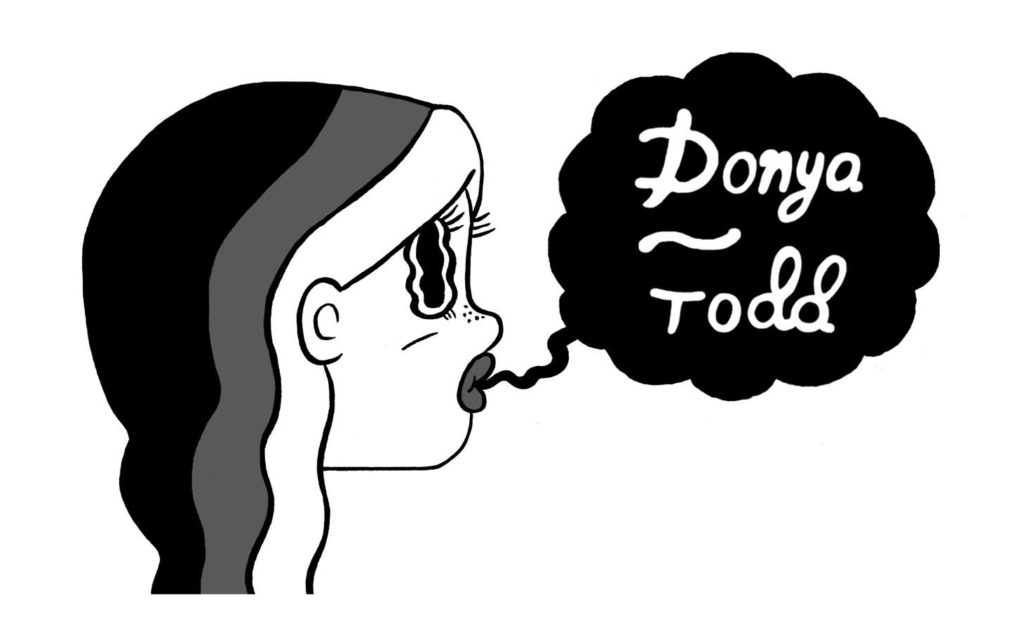 Who
Hello! I'm Donya an artist, illustrator and comic book maker who specialises in telling tales through art. My work is inspired by the magical, mystical and macabre which shines through in my narrative style. My award nominated graphic-novels are sold worldwide, I freelance for all kinds of businesses and clients, publish books and I run Chubbytown, an online illustrated clothing shop.
I'm currently studying a masters in Authorial Illustration at Falmouth University. previously I studied Illustration at the University of Plymouth and Hokkaido College of Art and Design in Japan. I'm now living on a farm in Cornwall with my partner & our two cats.
We're in the process of moving into our brand spanking new studio. pics will be coming soon. In the meantime keep an eye on my blog for updates. When I'm not freelancing, studying or at art fairs I teach, lecture and give talks as a higher education visiting specialist in Illustration.
Why 
Why should you hire me for the job & what I can do for you? Quite simply i am a professional illustrator. A designer. An authorial practitioner and A maker of wholeheartedly original artwork. I've worked on a wide variety of projects from character design for animation to pet-portraiture. hopefully you're here because you love my style and want to work together. Many others have chosen to do so and have been delighted with the results. Take a look at some of the cool people I've worked for:
CLIENT LIST
CARTOON NETWORK, SOCIETY6, IMAGE COMICS, TUNEYARDS, SAGE GATESHEAD MUSIC, HOUSE OF ILLUSTRATION, ONE SONS THEATRE, EDINBURGH FRINGE, EKIDNA, THE OPEN COLLEGE OF ARTS, CICADA MAGAZINE, CBSP, AVERY HILL PUBLISHING, MERCURY FILMWORKS
THOUGHTBUBBLE COMIC FESTIVAL, ORBITAL COMICS, FOYLES, COMICA, SAMSUNG, EXPLEE, BOY PARKER, BIF, GOSH! COMICS, ANGRY TOAD STUDIOS, TEEPEE MAGAZINE, EXPLEE, HOSTELBOOKERS, DEER BRAINS, BROKEN FRONTIER, THE ILLUSTRATED MIND, UNIVERSITY OF LEEDS, UNIVERSITY OF PLYMOUTH
22 PANELS, GNASH COMICS, BSB BLANKSLATEBOOKS, CBSP, LOST AT E MINOR, HOSTELBOOKERS, OFFLIFE, THE VEGAN YARN STORE, ONE BEAT ZINES,TATTY DIVINE, BELLYKIDS, THE PHUSE, PEOPLE & PLANET, CORNISH SCRIBE & MANY MORE... ♥
So please take a look at my gallery and get in touch about your commission, project, exhibition, teaching & talk opportunities, art fairs or whatever mad schemes you have brewing. Look forward to hearing from you. Speak soon, DT ♥
Design for weddings / personal portraits / Graphics & Branding / comics & characters / painting / teaching / chapter illustration / professional commissions / hand made zines / book design / info-graphics & scribing / graphic design / image & typography / Digital illustration / hand drawn art / comics / graphic novels / narrative illustration
₍ᐢ•ﻌ•ᐢ₎ -------------------------------♥-₍ᐢ•ﻌ•ᐢ₎-♥------------------------------- ₍ᐢ•ﻌ•ᐢ₎